On Tuesday, July 26th and Wednesday, July 27th, ARRC Technology, in partnership with Covenant Community Services (Covenant), provided fifteen former foster youth the opportunity to attend a two-day training program called Fostering Fundamentals. During this event, they were trained by ARRC Technology and CharTec employees about the skills necessary to enter and succeed in a professional work environment. At the completion of the program each attendee was able to take home a desktop computer complete with Microsoft Office.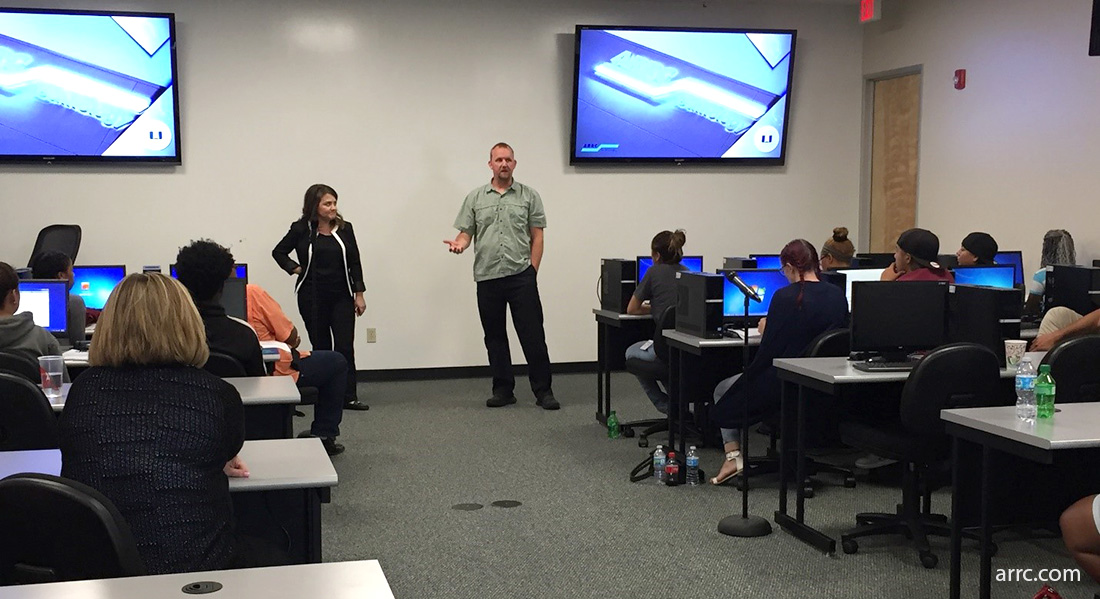 ARRC's COO, Shane Swanson, and CharTec's HR Generalist, Shannon Craig, discuss what they expect from a candidate during the interview process.
"[Covenant and ARRC] have a history that goes back to around 2005, and as of August 1st of 2008 ARRC has provided around $87,000 worth of products and services to Covenant," said Randy Martin, CEO of Covenant. "We literally would not be able to do the stuff we do without the support of ARRC."
Covenant is a nonprofit that serves former foster youth, and their families in Kern County. "Covenant impacts over one hundred 18 to 25-year-olds every day who would not be able to get educational, vocational, mental health, spiritual, and housing without the platforms we use," said Randy. Covenant provides hope through a unique set of services and support that includes coffee shops, mentoring, transitional housing, vocational training, and more.
"The harsh reality is that once they leave high school, they'll want to go to college. But only 1% will actually graduate," said Randy. So the goal behind Fostering Fundamentals is to encourage these young adults to feel like they have the tools necessary to succeed in college, as well as in the workplace.
"The Fostering Fundamentals experience not only provided a computer and computer education, but a journey of self-discovery and hope. Each participant was encouraged and enabled to embrace their life story for the purpose of finding hope and skills that lead to personal transformation," said Randy. "What a powerful and impacting two days! On behalf of the youth we serve I want to thank the team at ARRC for investing their time, talent and treasure!"
During this event, each young adult attended sessions about what human resource managers and corporate executives look for in candidates, and they had the opportunity to work on their resumes and cover letters in the presence of an HR professional. They were involved in sessions that discussed proper workplace etiquette and communication, the importance of a strong work ethic, organizing their finances and taxes, and applying for financial aid. The computer that each attendee used during the session are the computers they took home with them. Each computer contained the documents and handouts they were given.
"The purpose of this training was to give these young adults the tools, training, and confidence they need to be successful at whatever it is they decide to do with their lives – whether that means attending college or immediately entering the workforce. ARRC Technology is truly invested in the lives of former foster youth, and our hope is to continue this program every year to reach even more young adults."
[su_youtube url="https://www.youtube.com/watch?v=8Go1v5apInU" width="800″]
Covenant Community Services and Covenant Coffee (covenantcoffee.e-beans.net) is located at 1700 N. Chester Ave., Bakersfield, CA 93301. For more information about Covenant visit covenantcs.net or connect with Covenant on Facebook, facebook.com/covenantcs.
Be sure to follow this link (http://www.turnto23.com/news/local-news/former-foster-youth-attend-a-two-day-educational-program-on-succeeding-in-the-professional-world) to see the segment 23ABC put together to showcase Fostering Fundamentals.