When it comes to personal or business data security, you must know how to spot bogus links. Recognizing fake email links that might lead to fraudulent pages is a challenge for many people. The fact that hackers are using more advanced methods makes it worse for all of us. That is why beefing up your communication security is very important for your business data.
Indeed, hackers are using advanced methods to make the links they're sending out will look legitimate. Unfortunately, this leaves people unsure of whether the link they're following is legitimate or fraudulent. Luckily, there are ways to check whether a link is legitimate. That's why, today, we'll be looking at how you can incorporate spotting fake email links into your in-house security training.
After focusing on fake links and their dangers in our previous blogs, today's blog will summarize everything we've shown you so far. By doing so, we'll help ensure you're getting the right approach to your communication security and keeping everyone safe!
How Communications Technology Can Threaten Your Security
Modern communications technologies put many people at risk, and as a result, it's crucial to be aware of how these risks threaten your security. There are many ways by which communications technology is problematic, and some of the risk factors include the following:
Text message scams which include fraudulent links
Emails sent to your address that include fake links to sites that seem genuine
Fraudulent links through social media and messaging apps leading to malware-infected sites
These are just a few of the most common communications technology threats. You and your staff should be aware of these possibilities when opening emails, texts, or social media communications.
Why Adding Fake Link Prevention to Staff Security Training is Crucial
If you have been considering your next staff security training, adding fake link prevention is critical. Your security training sessions give your team an ideal opportunity to learn more about the dangers posed by clicking on bogus email links. This extra step helps ensure that your team knows how to stay safe while completing their daily tasks. By doing so, you can protect your client data from the risk of security breaches while also preventing hackers from getting access to your business funds.
Moreover, giving your staff information they need helps them avoid the risks of falling prey to fake links in their personal life. This knowledge increases the chance that they will stay safe in the workplace. Fewer data breaches will lead to better overall employee morale. After all – it's a well-known fact that happy employees are more effective and efficient workers. This efficiency is not only good for your staff but also your business.
As such, it's pivotal for businesses to incorporate fake link prevention and protection strategies into their staff security training. This step can also protect your business data while ensuring that your customers have confidence that their data is secure. Meanwhile, it can also help boost your staff's morale by teaching them to be safe and protected in their personal life. So, the benefits can be numerous!
Beefing Up Your Communication Security by Staying Safe from Security Challenges
To stay safe and protected against security challenges, you should consider the following tips. These will help you avoid falling into the trap of fake email links, which could have numerous consequences for your personal and business security.
First, it's vital to check where the link in question will take you. This step is easy to do. To start with, if the anchor text is a visible hyperlink, check that this is legitimate by looking for any signs of fraudulent links. You should also check where the hyperlink is taking you by right-clicking on the link before following it. For example, if a legitimate website ends with .com, check that this hasn't been tampered with in the link. An obvious sign of a false link would be if the address ends with .co.uk, .xyz, .club, or other uncommon domains.
Second, check the sender's details. You can search for email addresses and phone numbers online. If a quick search doesn't yield much useful information, you could also directly contact the company. In this case, you should ask them whether this is their genuine contact number or address. Most companies will be more than happy to help!
Finally, make sure you have your antivirus protection in place. Antivirus is surprisingly affordable nowadays. Your local IT service provider can help you choose the antivirus software that's best for you. If you need help in beefing up your communication security contact us now!
Opening unknown links can be a risk factor for your business and staff. As a result, more and more business owners have incorporated fake link prevention strategies into their security training. We've come up with a few tips to help ensure that your staff members have the critical information on how to spot fake links. This training can help prevent hackers from gaining access to your business. In cases like this, it is better to be proactive rather than reactive after a breach.
How to Spot Fake Links: Brief Staff Security Training Guidance
If you have been considering covering bogus links with your staff security training, you'll want to consider the following how to spot fake link prevention tips. These security training tips will help to give your staff the tools they need to stay safe and protected against the dangers posed by malicious links.
Staff Security Training Tip #1: Check URLs Before Following Them
One important tip for your staff as part of their security training is to check all URLs. A URL is the web address that you follow when you click a link. A common trick used by hackers to make the URL seem authentic is to use a similar URL mimicking a legitimate website.
For example, one switch would be disguising bogus links by changing the website name from 'example-site.com' to example_site.com.' This tiny change often goes unnoticed but could lead to your staff getting caught by a fake link.
Here are more examples:
If you regularly deal with Amazon, you'll notice that their URLs look like these:
orders@amazon.com, service@amazon.com, or membership@amazon.com
But bogus URLs will look like these:
hurry@amazon-$75.com, buddy79@my_amazon.com, or service@amazon-helpmenow.com
Often, the URL won't contain the name of the sender at all. You may see URLs like these:
clickhere@davisneedsshoes.org, holographic_iris@$9di4!wow.net
Question any link that seems out of place. If your staff doesn't check these carefully, it can be easy to fall into a trap.
As part of this staff security tip, make sure they're aware to check both the name of the link and check where the hyperlink goes. Hackers can easily disguise malicious links as legitimate links by using a website name as the anchor text. But, instead of taking you to the legitimate website, the link redirects you to a fake site. Luckily, checking the destination of a hyperlink is easy, especially on computers; simply right click and you'll get an option to see or edit the hyperlink.
Staff Security Training Tip #2: Don't Open Unknown Emails
A second crucial tip is to ensure that your staff does not open unknown emails. For many people, this is not easy to do. After all, how can you tell whether a sender is legitimate or not? It's easy to understand why this is so difficult. Some people struggle to decide whether the contact details for a firm are legitimate addresses or not. Luckily, we have a few tips for this.
Firstly, for text messages and telephone contacts, look up the telephone number from the source. A quick search will often give you the information you need to know. Most companies will have these numbers listed on their website's contact details. Alternatively, if the phone number is not legitimate, many sites now exist to display shady phone numbers; as such, searching the phone number alone may be enough information to help you decide if the text was legitimate.
As part of checking a sender's identity, you can also search for a specific email address to see if any information comes up. Most companies will have their contact email addresses displayed on their website. Check If the email address in question is on the website so you can confirm that the links are legitimate. If the exact email address does not appear on the website, you should question its authenticity.
If you struggle to find the correct information directly from a search, don't be afraid to contact the company in question. Most companies are more than happy to help if it means preventing a scam from occurring in their name.
Checking the legitimacy of the phone number or email address is one of the best ways to check whether a link is legitimate or fake. Ensure that your staff knows to do this for any communication containing a link.
Staff Security Training Tip #3: Get the Best IT Support and Antivirus Software
As a third and final tip for your security training, we cannot stress the importance of good anti-malware and antivirus solutions highly enough. Having these in place and installed on all of your devices can provide a good security backup. This practice is vital in case someone accidentally follows an illegitimate link that tries to download harmful software.
Antivirus software is highly affordable nowadays and doesn't take long to set up in your office. If you have any questions about this, contact us today. We will help you find the best antivirus software for your needs, as well as offer training to your staff.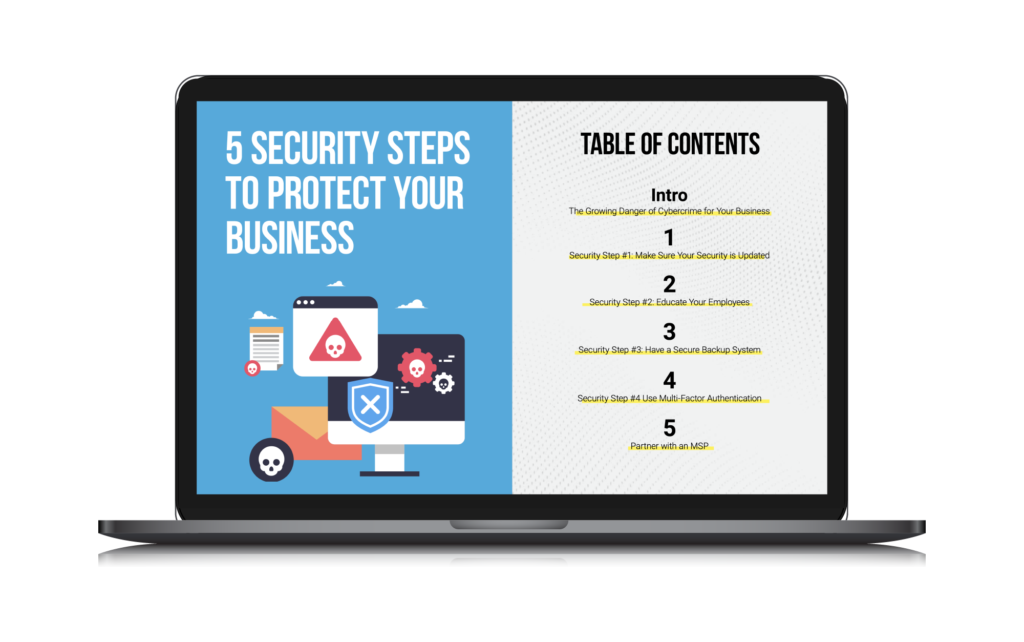 Cybercrime is a growing threat
It's not buzz, and it's not sensationalism. The growing awareness of cybercrime is long overdue and is frankly just beginning. We want to give you an e-book 5 steps to protect your business against cybercrime.
First, let's frame the issue. Here's a glimpse of the damage cybercrime does:
No matter the scale, cybersecurity is no longer something owners and executives can simply keep in their peripheral. It is a priority for today.
Your Business Needs Cybersecurity
As a small or medium-sized business owner, it's time to be prepared. 43% of cyber attacks are targeted against small businesses. Read our free e-book on 5 steps you can take to protect your business against the growing threat of Cybercrime.
Click Here to Receive Your E-Book on 5 Steps to Protect Your Business Against Cybercrime.
Keeping your business network safe and secure is essential. Virtual offices and cloud services can be smart ways to keep your data safe. However, many people do not understand the benefits that investing in virtual offices can have. Today we will be looking at what confidential computing is and how investing in the right computing strategies – with help from your managed service provider – can help your business network achieve safe cybersecurity thanks to cloud solutions.
Why Confidential Computing is So Important
When it comes to protecting your business network from hackers, you must have the right cybersecurity software in place. Information technology is an integral part of our lives these days. Still, a few businesses operate without some influence from IT service providers. That can put them at risk of getting hacked.
Confidential computing helps to prevent this from happening. In turn, this can help your business protect your, and your customer's valuable data. Currently, more and more people are turning to managed IT services and cloud infrastructure and their solutions. Let's take a look at some of the benefits of migrating to the cloud.
Benefits of Cloud Infrastructure for Business IT Solutions
There are many potential benefits for your business when choosing a virtual office or cloud solution services. As such, you must consider these cloud architecture benefits carefully before deciding whether or not to make the switch. However, changing to a cloud-based network could be a smart move for your business.
Some of the key benefits to moving to the cloud are:
Scalability
Enhanced Security
Lower Hardware Costs
Greater Flexibility for Employees
Easier Remote Access
Automatic Data Back-up
Lower Maintenance Costs
If you decide to switch over, we highly recommend that you do so with the support of a cloud computing company that can provide you with the best security possible. By doing so, you can be confident that appropriate firewalls, virus protection, and back-up disaster recovery steps are taken to protect your data. Let's take a deeper look at five things that add value to moving to the cloud.
Cost-Effective Solution
Cloud infrastructure can offer a highly cost-effective solution for many businesses. These savings are obtained by not having to purchase any high-tech office equipment yourself. Rather, you can "hire" cloud servers, thereby cutting the costs of hosting your business' IT network. There are many cloud storage providers on the market now, giving small businesses plenty of choices when looking for an affordable cloud storage plan.
Data Back-up Disaster Recovery
Another key benefit of most cloud computing services is that they offer data back-up disaster recovery, or BDR, services. That means you can rest easy knowing that your data is secure and backed-up if it should be compromised. That can be a highly time-consuming activity to do with non-cloud business networks.
Practicality
An important benefit of choosing cloud computing services is that the cloud offering is very practical for most businesses. But why is this?
When you choose cloud solutions for your business' computing needs, you can enjoy having access to company files and data from wherever you might happen to be. That means you can easily access information and files while out working in the field. This feature can also make it easier for your employees to access the system when they need to. As your managed service provider, we'd have access to carry out the necessary work on your network to keep it working effectively and securely.
Fast Speed
It is accepted that most cloud computing companies offer services that provide fast and efficient services. That is in comparison to some physical systems that can take a lot longer to load. It seems like a good business move. After all, time is money!
Unlimited Storage Capacity!
That is arguably the biggest (and most obvious) benefit of choosing cloud computing services and cloud storage providers. Having access to the cloud gives your business the potential to enjoy unlimited storage capacity – which, in turn, can allow you to keep more records with greater amounts of detail. All while saving money on expensive physical storage options.
Is Cloud Computing Secure?
Understandably, many people are unsure about the cloud infrastructure and cloud solutions being safe and reliable. However, it's important to remember that cloud technologies are highly advanced and provide a high level of support and protection for your data. After all, with many corporations and even governmental bodies using these cloud networks, it's of the utmost importance that cloud computing services are secure.
That is why you must choose the right Cloud provider for your business technology needs.
Get Professional Managed IT Services Today!
If your business can benefit from joining the cloud, then you must have professional support while making the change. Fortunately, our team of information technology experts understands cloud computing. As such, we are here to help you switch your business servers to cloud solutions, giving you the chance to enjoy all the benefits listed above (and more!)
To learn more about cloud computing services and how cloud solutions could benefit your business, don't delay, contact our IT management team today to find out more! We're here to help you find the perfect IT solutions that help your business grow.
Artificial intelligence, also referred to by the simpler term AI, has long been the holy grail of futurists, science fiction authors, and fantasists alike. Even before we established the concept of computer science, the notion of mechanized entities capable of learning, thinking, and acting on their own was a popular subject for science fiction. This is especially true of cautionary tales. 
While AI stories predate this work of art, the earliest popular demonstration in the common zeitgeist is the silent film Metropolis. Released in 1927, this movie is almost 100 years old. It deeply explores the idea of intelligent technology and its impact on our society. It also explores the ethics involved in creating machinery that is capable of awareness. 
We're not here to discuss science fiction robots that can think and feel just like people. We're not even going to discuss the menacing software displayed in the Terminator or Matrix franchises. Although, these are very interesting concepts. A discussion about the repercussions of AI does merit a conversation, but we're not there yet. Not by any stretch of the imagination. That's called the singularity, and it's going to happen someday soon. What we're here to discuss today is AI as we currently know it. 
Demystifying Contemporary AI
You're not aware of it, but you experience AI every day. Talking to your phone, Siri, and Alexa, or searching on Google or other search engines, AI tracks you. AI directs your searches based on your past search history, as well as what you're inputting. It compiles data from users and learns their interests and habits. It then uses this info for marketing and other purposes. 
AI also exists in the business and consumer sectors. But AI in the sense of what people think of in science fiction movies certainly does not yet exist. So, what exactly is it that we have that we're calling AI? 
 AI, or Machine Learning, is any form of software or hardware technology that is capable of learning from input and results. It then uses the ability to make intuitive predictions based on what it has learned. This includes abstractly solving problems based on past tasks. It will then adjust its approach to tasks and become more efficient and effective at making decisions. It is clever, but not conscious. 
AI can be powerful. You might be wondering exactly how this business automation like this can help you. Keep reading to find out! 
Tireless Workers
With AI capable of basic accounting functions, administration, and CRM, you can eliminate a lot of redundant tasks. Over time you'll have less unnecessary staff and less overhead.  
Arguably, AI isn't quite smart enough yet to handle dealing with an angry customer on the phone or in a chat, as anyone who's tried to talk to these so-called bots will attest. But they are very well-suited for simpler tasks. 
AI can learn customer habits, allowing it to be a handy assistant to CRM, PR, and customer service employees. AI can recall information about customers, and instantly suggest go-to solutions that make sense. Efficiency is the name of the game. 
Redundant tasks, such as appointment setting, cold calling, or pesky reoccurring jobs, can also be handled by AI. This frees up skilled employees to deal with people directly as they are trained to do. 
Artificial Intelligence can be useful for business planning and logistics management. It learns from markets, business climates, and current events. It is capable of making accurate predictions and connecting relationships that analysts may not be able to notice. This makes AI programs excellent tools for business analysts, traders, and marketing experts as well. 
AI Versus Outsourcing
Outsourced work is often of subpar quality, as reflected in the reduced price associated with it. AI responds instantaneously to notifications from customers and provides personal replies. It prioritizes deadlines with no emotional opposition nor fatigue associated with it. AI works 24/7 and doesn't need breaks or time off. It learns from operating and repetition. While a little bit of patience may be necessary when AI is put into place, it learns remarkably faster than people. This is not because it's smarter than people, but because its "brain" is designed specifically for the tasks at hand. 
AI doesn't need holidays, vacation pay, or anything of the sort. It never stops. It never gets bored, and it provides a far better, less emotionally charged customer experience.  
Th
is Has Potential, Where Do I Start?
If the prospect of a tireless, intuitive business automation tool like this sounds intriguing, your next step is to figure out what your business needs are. Do a little research. Read up on how Artificial Intelligence works, and compare platforms you're interested in. Get a feel for what this technology is and where its prime applications lie. Look into where it's used now, and notice the day-to-day things that are powered by AI. You'll be surprised by how prolific it is. 
Or, if the whole thing is confusing for you, drop us a line. We specialize in business technology and are avid proponents of business automation. We can even provide you with advice on how to integrate Artificial Intelligence with your current staff. After all, we want to help you grow your business, not find ways to lose valuable employees. Contact us today to find out more.