If we're completely honest with ourselves, staying on top of our children's school life isn't always the easiest thing to do. In most families, both parents usually work full-time. And that's only if both parents are even around to begin with. You might be a single working parent with multiple children to provide for.
Whatever the case might be, the point is that there's always a lot going on, and even if you desperately want to be involved with your child's school life, that might not always be possible. Between work, bills, grocery shopping, doctor's appointments, late night dinners, and the little sleep you can manage to cram in, things are always one after the other, after the other. There just isn't enough time in the day, and the average parent can barely remember to check their children's backpack for week-old flyers or past-due picture day announcements.
But thanks to modern technology, the way we live our lives is changing. It's getting easier to manage everyday tasks, and we can accomplish significantly more in less time than we're accustomed to.
Take ClassDojo for example. This smartphone application is finally giving parents everywhere the opportunity to stay involved with their children's education in a simplistic, user-friendly, and easy-to-manage way. Here's how this is happening.
ClassDojo connects teachers with parents.
ClassDojo allows teachers to communicate with parents through the app's interface. No more awkward at-work chats with the teacher over the phone, and forget about leaving work early to attend an even more awkward parent-teacher conference. If a teacher has updates for you or would like to discuss your child's progress with you, they can send you private messages through ClassDojo. It's as simple as that.
The teacher can even send you photos or videos of your child learning throughout the day. This way you can see what they're working on and learn a little bit more about what their day is like. But that's not all ClassDojo is good for. Teachers can share announcements, flyers, and class photos with all parents simultaneously. This means… you'll always know about a school event well before the day of the event.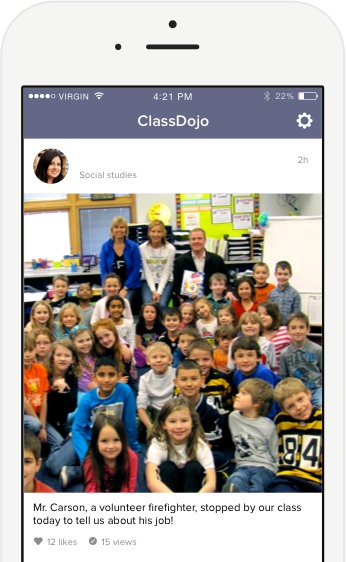 ClassDojo connects children with parents.
Children get excited when they work on projects. But sometimes they struggle to explain the project to you after the day is over, or they don't receive the opportunity to bring their project home with them to show you. With ClassDojo, this is no longer an issue.
Not only can the teacher share photos with you, but your child can add photos of their projects to their digital portfolio. You can see everything your child has worked on for the year on your connected devices, and you don't have to worry about losing or damaging your child's hard work.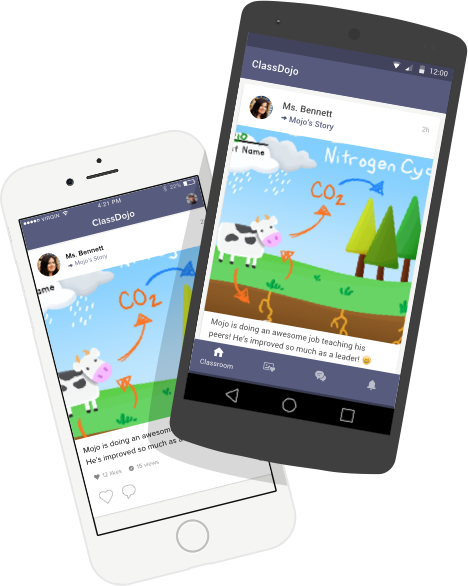 ClassDojo connects teachers with students.
This app isn't just for parents to keep up with their children. It's also for teachers to keep up with their students. Teachers can award students participation points and even monitor attendance and classroom behavior. Each student can become actively involved with this process and see where they need to improve, when their behavior isn't the best, and if they need to participate more.